Site Menu
Screenshots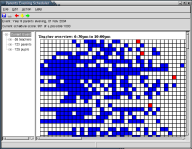 Click the picture above to see more screenshots.
NEW for Winter 2013! ParentEve 3.7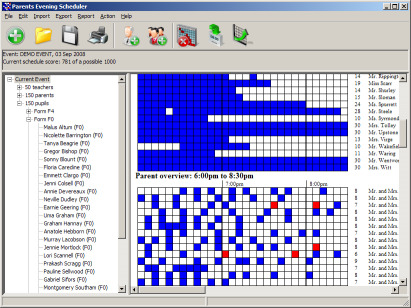 ParentEve 3.7 is new for the winter 2013 term, featuring the ability to enter appointment lengths to half-minute accuracy, multiple email addresses per person, improvments to the handling of locked events and many more. Download it today! Click on the picture above to see more screenshots of ParentEve in action.
ParentEve
ParentEve is a powerful scheduling program for organising parents evenings and parent-teacher nights in secondary and high schools. Download it for free to try it out, and if you wish to use it for your school it is available to license on a per-event basis.
Reduce your Workload
Cut the drudgery of manually organising a complex parents evening - ParentEve can save you large amounts of time.
"The parents evening programme made such a difference. I managed to organise the whole evening in just 4 hours which is unheard of!"
- Tim Griffith, Head of Year 10, Ranelagh School, Bracknell, Berkshire
Improve Schedules, Reduce Waiting
Ensure your evening goes smoothly - ParentEve can produce optimal schedules where both teachers and parents are spared the frustration of long periods of waiting.
Click here to see the full list of features.
Latest News
Version 3.7.6 Released

11th March 2013

A new release of ParentEve is now available - version 3.7.6. This is a bugfix release which fixes parent emails occasionally not sending correctly in certain circumstances.

All current users are recommended to upgrade to this version - Download ParentEve here for free or click "Check for Updates" in ParentEve's help menu.

>Version 3.7.5 Released

14th February 2013

A new release (version 3.7.5) of ParentEve is now available. This is purely a bugfix release:

Teacher emails are now not sent when the teacher has no appointments
The email sending window could occasionally display the wrong number of emails to send, this has been fixed