NEW for Autumn 2014! ParentEve 4.1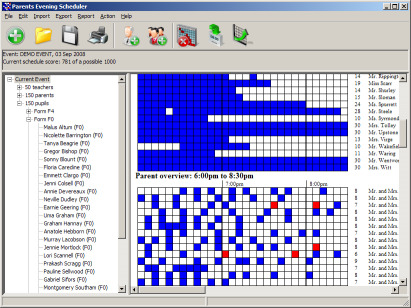 ParentEve 4.1 is a new version of the software that supports multiple parents with identical names. For example, if your school uses surnames only, ParentEve now copes with multiple parents having the same name set in the system (for example if you have common surnames like "Mr. and Mrs. Smith").
This is implemented by a new "identifier" field on parents, which can be imported from a "Family ID" or similar field from your MIS. If this field is absent, ParentEve takes the name as the identifier as in earlier versions of the software.
If you're renewing in Autumn 2014 you will also be interested in the new features in the 4.0 major release which came out at the start of the year such as calendar support: when emails are sent to parents and teachers, a calendar invite is automatically sent. A QR code is printed on letters sent to parents, so that when a parent scans the code with a smartphone it will add a calendar appointment for them.
The priority of an appointment can now be easily selected by clicking the appointment request box multiple times in the Edit Appointments windows, and appointments are now booked in a far more fair manner when the event is overbooked.
Download it today! Click on the picture above to see more screenshots of ParentEve in action.
ParentEve
ParentEve is a powerful scheduling program for organising parents evenings and parent-teacher nights in secondary and high schools. Download it for free to try it out, and if you wish to use it for your school it is available to license on a per-event basis.
Reduce your Workload
Cut the drudgery of manually organising a complex parents evening - ParentEve can save you large amounts of time.
"The parents evening programme made such a difference. I managed to organise the whole evening in just 4 hours which is unheard of!"
- Tim Griffith, Head of Year 10, Ranelagh School, Bracknell, Berkshire
Improve Schedules, Reduce Waiting
Ensure your evening goes smoothly - ParentEve can produce optimal schedules where both teachers and parents are spared the frustration of long periods of waiting.
Click here to see the full list of features.